Ein Wochenendworkshop mit Silvija Tomcik
10-12.November 2017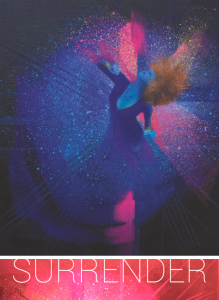 "Surrendering to the movement practice teaches us to trust."
Gabrielle Roth
Chaos. The rhythm of absolute surrender and a deep letting go. When the dance happens without us controlling it. We release and shake everything that we hold on to, everything that burdens us and celebrate the no mind state. We will ride the waves of each Rhythm, practising to soften at the point when we are ready to let go, to surrender, to blossom. Chaos is the marriage of the masculine and feminine. The surrendering of the lovers to something bigger that brought them together in the first place. We give ourselves to the wildness of a dance that can never be planned or repeated. In the midst of the storm we practice softness and finding our center.
"I can tell you that it takes great strength to surrender. You have to know that you are not going to collapse. Instead, you are going to open to a power that you don't even know, and it is going to come to meet you. In the process of healing, this is one of the huge things that I have discovered. People recognized the energy coming to meet them. When they opened to another energy, a love, a divine love, came through to meet them. That is what is known as grace. We all sing about amazing grace. It is a gift. I think that it comes through the work that we do. For some people, it can come out of the blue, but I know that in my own situation, the grace came through incredible vigilance." Marion Woodman
Silvija Tomčik, accredited 5Rhythms teacher, was introduced to Gabrielle Roth's teachings through her book Maps to Ecstasy 20 years ago. It was a powerful encounter, which motivated Silvija to begin searching for teachers of the 5Rhythms with whom she wished to dance. So she began organizing 5Rhythms workshops and brought the method to Croatia and the region for the first time. After having danced for several years, she did the teacher training with Gabrielle in USA, where she received Waves certification in 2001. She received her Heartbeat Level training and certification in 2010. She is currently a member of the Teaching Staff team that provides Teacher Training at the moment, led by Jonathan Horan. Teaching and dancing are her natural gifts.
Prices : 180,- € /Jagati members and early booking price (with 50 € deposit until 1. October): 160,- €
Early booking for Jagati members: 140,- €
Location : Studio KI, Burggasse 9 Graz
TIMES:
Friday: 18.00-20.30
Saturday: 12.00-19.00  Sunday: 10.30-17.00
Information and contact :  Stefania: stefania.jagati@gmail.com